Architecture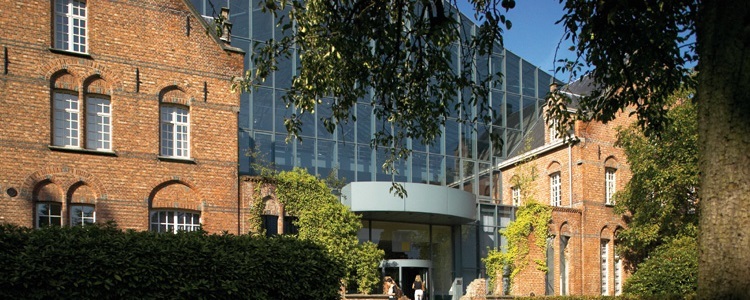 Some historic buildings stand out immediately in the Turnhout city centre. The embellished station building, the perky water tower and the Paterspand (event centre) undoubtedly make you slow down to look. The hand of the architect family Taeymans is never far away.
The Louvre of Turnhout
... or the Paterspand. In the 1980s the former monastery of the Order of Friars received a new look. Literally, because Pieter-Jozef Taeymans covered the monastery with glass and steel. A successful combination of historic architecture and contemporary art. Other examples of the Taeymans family's skills? The façade and gatehouse of the current Holy Grave Institute, the Our Lady Mediatrix Church and the St. Joseph College. And do not forget the house of Xavier Taeymans at the Merodelei 83.
The Turnhout School
In the 'golden sixties', the Flemish cities experienced economic, demographic and cultural growth. Late modernist architecture appeared in the streets. This was also the case in Turnhout. With contributions by several architects: Paul Neefs, Atelier Vanhout & Schellekens and the office of Lou Jansen and Rudi Schiltz. Their work is known as 'the Turnhout School' and is considered to belong to the best of the 'golden sixties' in Flanders.
AR-TUR
AR-TUR is the centre for architecture, urban planning and landscape in the Kempen. You can find its employees in de Warande Culture house. In the KEMPENLAB, AR-TUR utilises the Kempen as an experimental site for the rest of Flanders.
AR-TUR strives to have a strong impact on the spatial quality of the built environment in the Kempen. To this end, the centre integrates its urban planning as much as possible to resolve social challenges in Flanders and in the region.
Architectural maps
AR-TUR has made a number of architectural maps. You can view these and download them for free via the website.
Guided tours
AR-TUR, in collaboration with many partners, offers guided tours of architecture inside and outside of Turnhout. You can visit the Home of Jozef Schellekens or take a tour in de Warande. You can also visit the different buildings of the Turnhout School during a customised guided tour. You can tour de Warande, Saint Victor School, Master Meubel furniture showroom, the Parkwijk (residential area and school) and the studio house Vanhout & Schellekens. Finally, there is also an architectural walk in the Hoge Rielen resort.
For more information about the guided tours and for reservations visit the AR-TUR website.