Dukes of Brabant Castle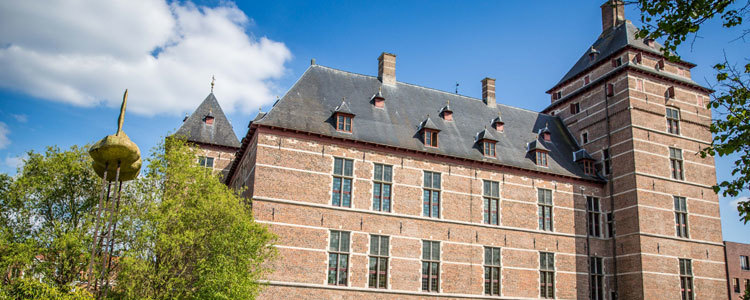 In its nine centuries of existence the 'little castle' has had as many lives. It was originally the first Duke of Brabant's hunting lodge. Since then the impressive building has been known as a jail, city warehouse, fire station and weaving school.
Moated stronghold under siege
The castle proudly displays the scars of its rich history. It was hit by cannon a hundred times in the Eighty Years' War, was run down in the eighteenth century and then, two centuries later, was scheduled for demolition. Fortunately, the castle was purchased by the province and restored by Jules Taeymans. It has been a listed monument since 1936. Today it houses the court of Turnhout.
Step into the past
A visit to the castle is an experience. It is like walking into history. The courtyard is like a stop-off point along the timeline. Wandering through the halls and passages brings you close to relics from the past. The large courtroom contains beautiful murals by Karel Boom. These murals show the court in the time of Mary of Hungary.

You can have one of the city guides take you on a guided tour of the castle. Simply apply in writing to the President of the Court of First Instance, Kasteelplein 1, 2300 Turnhout. Visits are only possible in the afternoons and at weekends.