Beguinage - UNESCO World Heritage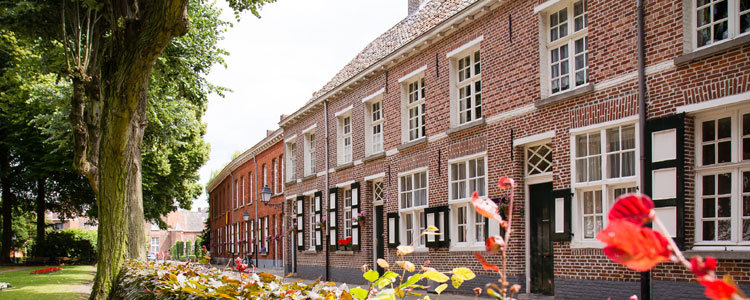 There just aren't enough superlatives to describe the splendour and charm of this 14th century beguinage. Perhaps the recognition as a UNESCO World Heritage site, in 1998, is enough to lure you to the gate. Behind it you will discover the beautiful beguinage square.
14th-century splendour
In the 14th century the beguinage was located in the former park around the castle. In its heyday, in 1675, the beguinage housed 370 beguines. Then followed various disasters with fire, looting, plague and other pests. Fortunately, the beautiful baroque beguinage church from 1666 - 1667, the Holy Countenance chapel and the restored Calvary chapel remained untouched. Enjoy, and let the world stand still for a moment.
Look at the beguinage floor plan (Dutch version).
Step back in time
'Ladies with a black habit and white cap, caricatures depicted in comic strips': this is the image that young people in the future are likely to have of beguines. But the Beguinage Museum (Dutch version) knows better! How did these intriguing women live? Which vows did they make or did not take? What did they do to earn their bread? The museum lets you wander through this disappeared long-gone community of brave women.
Visit the beguinage with a guide
You can visit the Beguinage site and the Beguinage Museum individually. The Beguinage site is accessible free of charge, the charges for the Beguinage Museum can be found on the website. For only 7.50 euros you buy a combi ticket that gives you access to the three city museums (the National Museum of Playing Cards, the Taxandria Museum and the Beguinage Museum).
Do you prefer a total experience? Book a group visit and discover the Begijnhof site and the museum led by a guide.