Bicycle rental and e-bike charging stations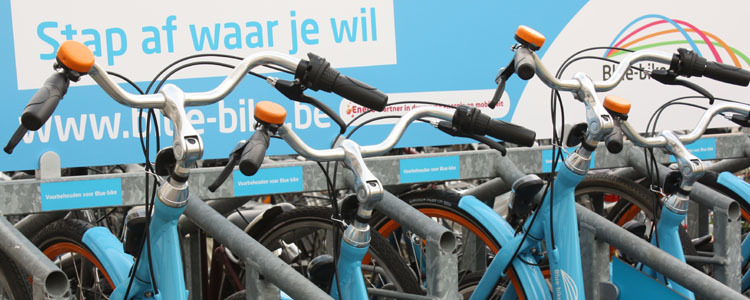 Are you in Turnhout and would you like to explore the region, but you don't have a bike? No problem! You can rent a bicycle at a number of locations in the city.
Bicycle rental Fietspunt
The city of Turnhout has three Fietspunten (Bicycle Points). Here you can rent bicycles, but also offered are the following supporting services:
guarded bicycle parking (Fietspunt Station, Leopoldstraat and City Park)
bicycle repairs according to the home principle (Fietspunt Station and Leopoldstraat)
bicycle wash (Fietspunt Leopoldstraat)
sale of bikes (Fietspunt Leopoldstraat)
charging station for electric bikes (Fietspunt Leopoldstraat)
engraving (Fietspunt Station)
Contact details
You can find the Bicycle Points at the following addresses:
Fietspunt Station, Stationstraat 1 (platform 1)
Fietspunt Leopoldstraat, Leopoldstraat 24
Fietspunt Stadpark (City Park), at the corner of the Graatakker and the Papenbruggestraat, right next to the ring road.
Tel.: +32 (0)484 16 01 22
E-mail: info@fietspuntturnhout.be
Prices
You can find the price overview for the rental of an adult, electric, child or trailer bicycle and tandem on the Fietspunt website.
Bike rental Jan Matheussen
At the Jan Matheussen bike shop, you can rent electric bikes, regular bicycles, baby carriers and parent-child tandems at two different locations. Child seats and panniers are also available.
Contact details
Bike rental Jan Matheussen
Renier Sniedersstraat 93 or Stationstraat 15
2300 Turnhout

Tel.: +32 (0)14 41 26 51
E-mail: info@janmatheussen.be
Website: www.janmatheussen.be
Blue-Bike
Leave the traffic jams behind and cycle yourself healthy! Take the train and bridge the last kilometres to your final destination by bike thanks to Blue-Bike. With the handy lock you can keep the bike for a whole day. Fast, easy and healthier than a weekly fitness class!
Interested? Go to the website of Blue-Bike and your subscription card will be in your mailbox in just a few days.
E-bikes charging stations
Do you intend to use an electric bike and do you want to charge it while on the road? This is possible at various locations in the city.
Fietspunt Leopoldstraat

Leopoldstraat 24
side street Gasthuisstraat
2300 Turnhout

+32 (0)484160122
info@fietspuntturnhout.be
http://fietspuntturnhout.be


Fietspunt Stadspark (City Park)

At the Stadpark (City Park) ring road parking, at the corner of the Graatakker and the Papenbruggestraat, right next to the ring road.

+32 (0)484160122
http://fietspuntturnhout.be

Fietspunt station

Stationstraat 1
2300 Turnhout

+32 (0)484160122
info@fietspuntturnhout.be
http://fietspuntturnhout.be

Klein Engelandhoeve visitors centre

Klein Engeland 29
2300 Turnhout

+32 (0)14 82 81 00

Zegeplein – EVA Oplaadeiland (EVA Charge island)

Begijnenstraat 9
2300 Turnhout

Terms of use:
A fee is charged

Station - EVA Oplaadeiland (EVA Charge island)

Stationstraat 5
2300 Turnhout

Terms of use:
A fee is charged

't Klaverhof

Plamaten 2
2300 Turnhout

tel.: +32 (0)14 41 32 91
info@klaverhof.be
www.klaverhof.be

Camping Baalse Hei

Roodhuisstraat 10
2300 Turnhout

tel.: +32 (0)14 44 84 70
info@baalsehei.be
www.baalsehei.be

Café Tyl

Steenweg op Diest 23
2300 Turnhout

+32 (0)14 41 31 40

Terms of use:
Free with consumption

De Koekoek

Steenweg op Merksplas 48
2300 Turnhout

tel.: +32 (0)14 41 17 78
koekoek@koekoek.be
www.koekoek.be

Café De Parkwijk

Lode Peetersplantsoen 2
2300 Turnhout

+32 (0)14 65 68 39
info@cafeparkwijk.be