Indoor playgrounds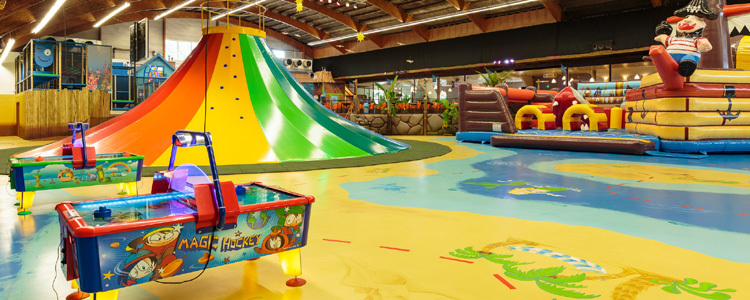 Looking for a place where your children can play during bad weather? No problem! Turnhout has a number of interesting indoor playgrounds.
Kleuterstad (toddler city)
Kleuterstad Turnhout is a unique indoor playground especially for toddlers. Only children up to 7 years old are allowed.
Practical information
Contact details, opening hours and prices can be found on the website.
Raf & Otje
Raf and Otje welcome you to their large indoor play area! There is a separate toddler playgroup for children between 0 and 4 years of age. For the older boys and girls (up to 12 years old) there is a large playground with a rainbow volcano, pirate ship, bouncy castle, discovery floor, climbing room, block building zone, football field... Mums and dads, grandmothers and grandfathers can enjoy a snack and a drink, while they can keep an eye on the little ones.
Practical information
Contact details, opening hours and prices can be found on the website.
Peuterspeelpunt (toddler play centre)
A toddler play centre is a meeting place for children up to 3 years old and their mums, dads, grandparents or babysitters. At this type of toddler play centre, the children become accustomed to other children, a different environment and other adults. Thus the step up to kindergarten will be easier.
Parents, grandparents or babysitters remain present throughout the morning and can chat with each other while the little ones are playing. They can support each other in the education of their children.
Two educators keep a close eye on everything and deliver a fun morning to the toddlers. They also give advice on education if parents, grandparents or babysitters ask for it.
The toddler play centres can be accessed free of charge. The children receive a piece of fruit and a glass of water. The parents, grandparents or babysitters have coffee or tea.
Practical information
You do not have to register or reserve for the toddler play centres. Each location is freely accessible and has its own opening hours.
You can find the locations of the toddler play centres on the Stad Turnhout website (city of Turnhout).