Carillon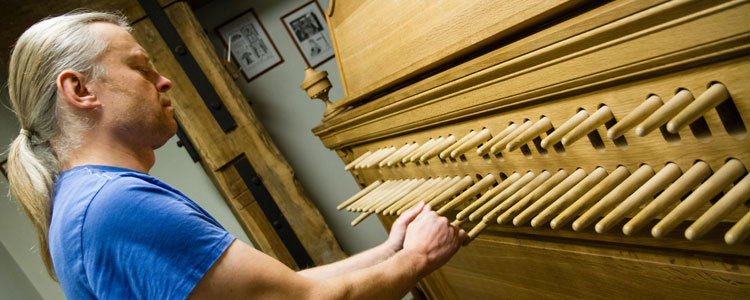 In the tower of St. Peter's Church you will find a carillon of great historical value. Andreas Jozef Vanden Gheyn, master bell-founder from the 18th century, cast a carillon with 38 bells for this tower, in 1775.
Opus 17
Andreas Jozef and his brother Matthias are the two most important personalities in the Vanden Gheyn family of bell-founders, a legacy which spans over three centuries. Andreas Jozef was very active as a bell-founder and cast a total of 23 carillons of which only ten were spared after wars, fires and the like. The Turnhout carillon was his opus 17. Not only is Andreas Jozef regarded as the best bell-founder in our region, the Turnhout bells are also regarded as one of his finest works.
Brother Matthias was famous as a church musician, composer, bandmaster and carillonneur in Leuven. He most likely often worked with his brother to tune the bells. Without doubt, his carillon music will have sounded a lot in Turnhout at the end of the 18th century. Since 1998, Koen Van Assche has been giving carillon recitals every Saturday morning.