Guided tour of the Castle of the Duke and Duchess of Brabant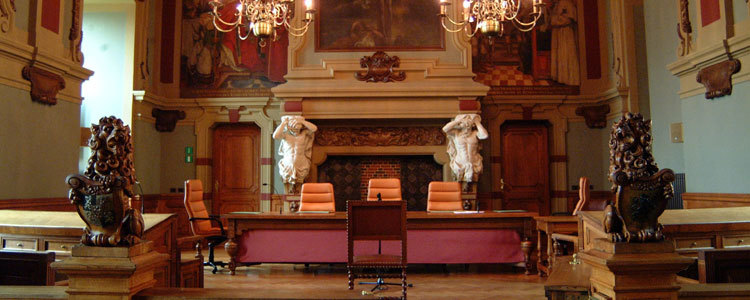 How can a building be one of the oldest in the city and still be full of life? At the castle of the Dukes of Brabant you can see how it's done. Its history dates back to the 13th century, when the monument was still the country retreat of the Brabant dukes. Now it is home to the courthouse. A tour of the castle takes you through the history of this ancient building. You explore this historic building from basement to tower. The restoration and current jurisprudence will also be discussed during the tour.
The guided tour takes 1.5 hours, as standard.
Some important guidelines:
The courthouse is an old castle with many stairs. It is therefore less suitable for people with mobility issues.
The functioning of the court takes precedence over visits. This means that changes can be made at the time of the tour and it may not be possible to visit certain rooms.
From Monday through Friday, morning visits are not possible, because the court is in session. To guarantee the court's function, a maximum of only two groups of 25 people are allowed per day. The guided tours start between 1 pm and 3 pm.
On Saturdays and Sundays, visits are possible in the morning. During the weekends, more than two groups can be received per day.
How does it work?
A tour of the Castle of the Dukes of Brabant is only possible with a guide. Book the guided tour at least three weeks in advance via Toerisme & UiT. With your reservation, indicate:
the desired date
the time of the visit
the size of your group (maximum 25 people per guide)
contact details
The cost per guide is 50 euros. A one-off administration fee of 5 euros will also be charged.
Toerisme & UiT secures the guide(s) and provides you with a reservation confirmation for the visit. Afterwards you will receive an invoice for the payment of the guide and the administration fee. Then you and your group go to the castle for the guided tour on the agreed day and time.
In case of cancellation, you must inform Toerisme & UiT in writing at least six calendar days in advance. In the case of late cancellations, you pay the total amount and no cancellation restitution is possible.