Holy Cross procession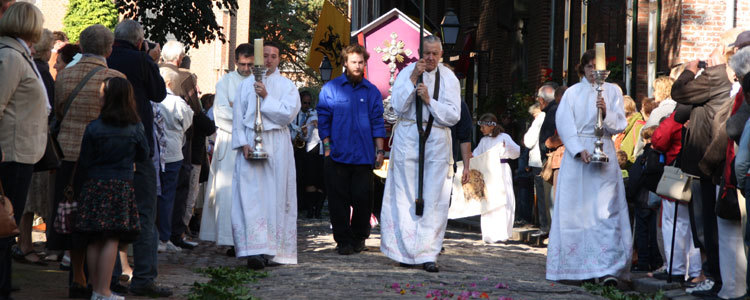 In the Roman Catholic church, processions are parades in which the clergy and the faithful step inside the church or through the parish.
The procession at the Turnhout beguinage is organised for the feast of the Holy Cross dedicated to the ordination of the church and comprises three parts. A first part deals with the Holy Cross and the beguinage. The second part is dedicated to Our Lady and the third part to the Blessed Sacrament.
Annual tradition
The Holy Cross procession is an annual tradition of the beguinage. Children and adults depict various themes in the procession. Reference is made to the Holy Begga and the beguine movement.
The feast of the Exaltation of the Cross is celebrated on the 14th of September. Thus, every year around this day, the procession starts after the Eucharistic celebration of 9.30 am.