Turnhout giants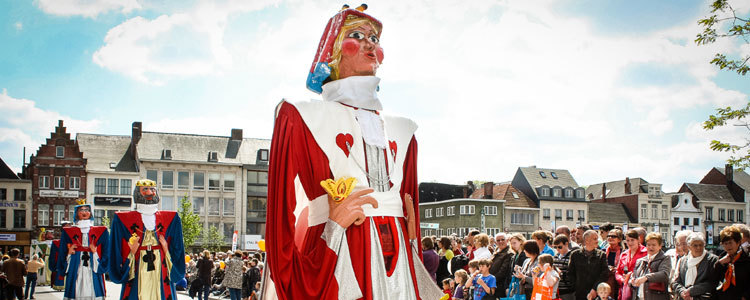 Since the Middle Ages, the procession of giants has been one of the biggest attractions at festive ceremonies and joyful celebrations. The traditional Turnhout giants, with the accompanying Giant Club, bring joy and pleasure to the crowds.
Largest in Europe
In total, there are 31 giants. And so Turnhout has one of the largest giant clubs in Europe. There is a group of 19 giants who portray a village community, such as a mayor with a lady, a catholic father with a maid, a 'champetter' (village constable), a judge, a poacher, a postman... But as the world centre of the playing cards, it goes without saying that playing cards giants cannot be absent. This group of twelve giants depict the prints of the gaming cards in beautiful colours.
During parades, the Turnhout giants surprise their spectators time and again with their beautiful dances, walking and turning movements and by their humorous mobility.
In good weather, the giants come out during festivities. Otherwise you can admire them in the central entrance hall of the City Hall.