Teaching suitcases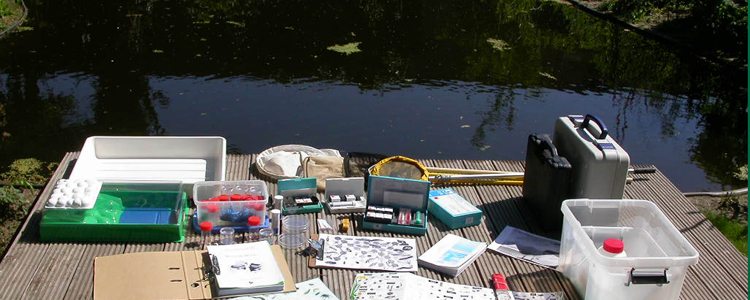 Teaching suitcases are ideal tools for the classroom. Using this fun tool, children become familiar with certain subjects. These teaching suitcases are borrowed by Natuurpunt CVN against payment. You can choose from the following suitcases:
Water suitcase (3rd grade primary and 1st grade secondary education)
Forest suitcase
Creepy crawlies suitcase (3rd grade primary education)
Water suitcase
Go on a discovery adventure in and around water with the water suitcase. Questions such as "Which animals live in the water?", "Is the water clear or cloudy?", "What about the oxygen content?" and 'Which plants do you find on the waterfront?' can all be answered using the water suitcase.
Forest suitcase
Take the forest suitcase and go on a discovery tour in the forest! While performing fun assignments you'll learn about life in the forest. Start with a tree height gauge, magnifying glass jars, shovels and a sieve. To ensure the smallest creatures do not escape your attention, there is even an insect pocket in the suitcase. An identification chart helps you to recognise the animals.
Creepy crawlies suitcase
If you want to combine education and entertainment, you can do it with a creepy crawlies suitcase. In a fun way, you can build a food chain or find out why an ecosystem is so important. Or, if you prefer to be out in nature, armed with nets, storage pots, magnifying glasses ... to discover all kinds of creepy crawlies, that is not a problem either. Dive into the suitcase and maybe something will start to wiggle ...
Practical information
If you would like to borrow a teaching suitcase, you can do so after booking with Natuurpunt CVN. The suitcase must also be picked up and returned to this location. If you would prefer a teaching employee to attend with a suitcase, this is possible after consultation.
Would you like more practical information on the teaching suitcases or would you like to have some reserved for you? Then contact:
Natuurpunt CVN
Ann Cassier
Graatakker 11
2300 Turnhout
Tel. +32(0)14 47 29 50
Email: museum@natuurpunt.be
Website: www.natuurpunt.be/museum
Facebook: NatuurpuntMuseumEnErfgoed