Turnhout comic strips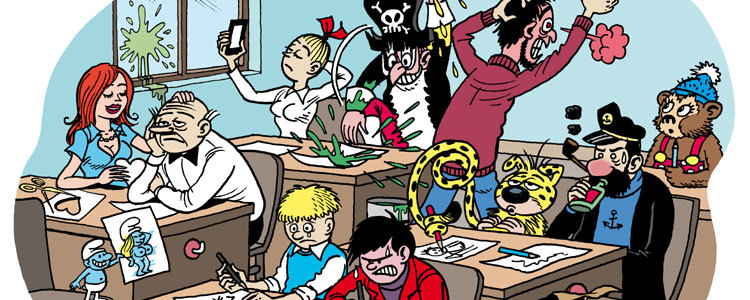 Turnhout is not only famous for its playing cards, but also comic strips. Undoubtedly, the presence of Stripgids (comic strips guide) has something to do with this.
Comic strips guide
Stripgids is the publisher of the eponymous magazine that appears twice a year and keeps a finger on the pulse of what is happening in the world of the Flemish and international comics.
Bronze Adhemar
The Bronze Adhemar, the most important award in the field of illustrated stories in Flanders, is also awarded by them. This prize, associated with the Flemish Culture Award for Comics since 2003, has been bestowed every two years since 1977 and is named after a character from the series 'Nero' by Marc Sleen.
Flemish Documentation Centre for Comic Strips
In the library you will find the Flemish Documentation Centre for Comic Strips or the largest collection of strip documentation in Flanders. With a collection of 2,000 reference books on comics, complementary to the comic collection of approximately 25,000 titles at the Turnhout Library and linked to the catalogue of the Belgian Comic Strip Centre in Brussels, this documentation centre is of international significance.
Comic strip walls
Strip Turnhout has brightened up the streets in four locations with several comic strip walls. These drawings are made by comic strip artists who clearly have already earned their artistic reputation. Look for the comic strip walls in the following locations:
Warandestraat - Jan Van der Veken
Begijnenstraat - Reinhart
Bloemekensgang - Ulf K.
Wollewei - Merho