Turnhout during WW I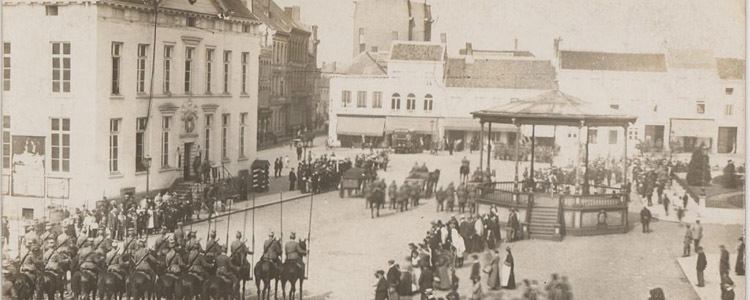 We are inundated with documentation about the First World War. Most of the information we see concerns the Yser frontline. Turnhout was completely obliterated by the Germans.
How did the Turnhout population view the international tensions in the years preceding this war? What happened here in those first few months after the mobilisation on July 31, 1914? Do you know what the civil guard did? How and where did the seizure of Turnhout take place? Who were the first victims? Were people starving? How did the occupation evolve?
During this walk we visit places where the Germans set up various facilities and we wonder how the Turnhout population reacted to this. Never-before-seen photographs provide a picture of our city, both during the war and during the liberation. That this walking tour will be a fascinating experience is already a given!
The city walk takes two hours.
How does it work?
Book a 'Turnhout during WW I' walk at least three weeks in advance via Toerisme & UiT. With your reservation, indicate:
the desired date
the time of the visit
the size of your group (maximum 25 people per guide)
contact details
The cost per guide is 50 euros (from the third hour 25 Euros extra per started hour). A one-off administration fee of 5 euros will also be charged.
Toerisme & UiT secures the guide(s) and provides you with a reservation confirmation for the visit. Afterwards you will receive an invoice for the payment of the guide and the administration fee. Then you and your group to the designated starting point for the walk on the agreed day and time.
In case of cancellation, you must inform Toerisme & UiT in writing at least six calendar days in advance. In the case of late cancellations, you pay the total amount and no cancellation restitution is possible.