Turnhout, the city of women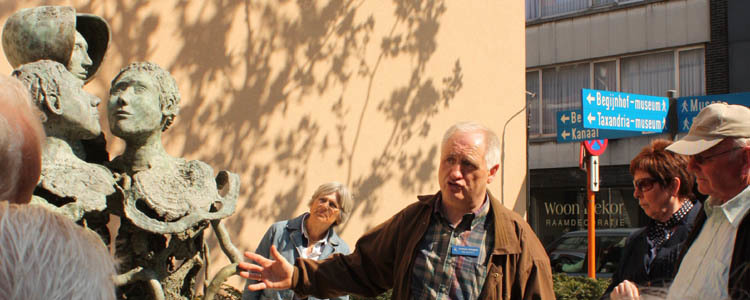 The noble women of Turnhout, Maria of Brabant, Mary of Hungary and Amalia Van Solms gave power and prestige to our city in the distant past. Yet they are not the only women who made the capital of the Kempen great.
Along this walk of the city, we get to know businesswomen like Josephine du Four-Dessauer, owner of Brepols, and Fanny Diercxsens-Aubergé, a resistance heroin during the First World War. Sister Maria-Jozefa, director of the Holy Sepulchre school, has acquired a name and a reputation thanks to the 'Dutchification' of education. Clara Dresselaers was a midwife in the first half of the twentieth century and helped about seven thousand mothers give birth at home. Grand Mistress Johanna De Boer, the last beguinage of Turnhout, must not be forgotten either. The presence of women in Turnhout is striking. Strong women who made history.
The city walk lasts two hours.
How does it work?
Book a 'Turnhout, the city of women' walk at least three weeks in advance via Toerisme & UiT. With your reservation, indicate:
the desired date
the time of the visit
the size of your group (maximum 25 people per guide)
contact details
The cost per guide is 50 euros (from the third hour 25 Euros extra per started hour). A one-off administration fee of 5 euros will also be charged.
Toerisme & UiT secures the guide(s) and provides you with a reservation confirmation for the visit. Afterwards you will receive an invoice for the payment of the guide and the administration fee. Then you and your group go to the designated starting point for the walk on the agreed day and time.
In case of cancellation, you must inform Toerisme & UiT in writing at least six calendar days in advance. In the case of late cancellations, you pay the total amount and no cancellation restitution is possible.