Torenhoog (sky-high)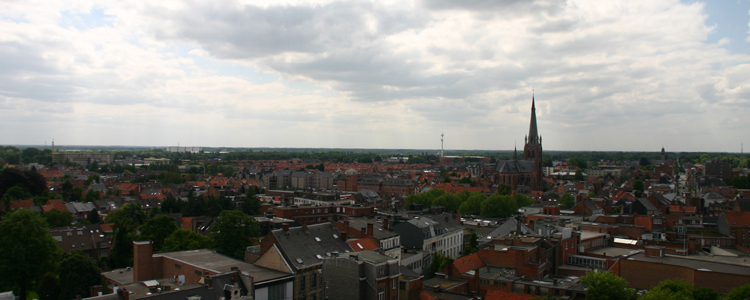 Visiting the city from a height will offer a completely different perspective. How green is Turnhout? From the Church of the Sacred Heart, you get a beautiful view over the city and the Kempen in good weather. A view which easily stretches over thirty kilometres. The slag heaps of Beringen, the cooling towers of Doel, but closer still the church tower of Hoogstraten or the brick factories near the edge of the canal. In the tower of St. Peter's Church, we find a carillon of great historic value. Andreas Van den Gheyn, master bellmaker in the 18th century, cast a carillon for this tower in 1775. The combined weight of the 53 bells in the clocktower is approximately 10,000 kg.
The walk takes two hours.
How does it work?
Book a 'Torenhoog' walk at least three weeks in advance via Toerisme & UiT. With your reservation, indicate:
the desired date
the time of the visit
the size of your group (maximum 25 people per guide)
contact details
The cost per guide is 50 euros (from the third hour 25 Euros extra per started hour). A one-off administration fee of 5 euros will also be charged.
Toerisme & UiT secures the guide(s) and provides you with a reservation confirmation for the visit. Afterwards you will receive an invoice for the payment of the guide and the administration fee. Then you and your group go to the designated starting point for the walk on the agreed day and time.
In case of cancellation, you must inform Toerisme & UiT in writing at least six calendar days in advance. In the case of late cancellations, you pay the total amount and no cancellation restitution is possible.