Mini golf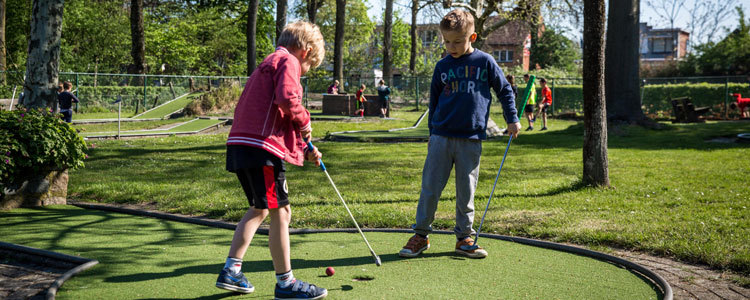 The mini golf at the urban sports hall has 18 holes.
Mini golf can be played from any age and no equipment is required. You can rent everything on the spot. Take into account the weather conditions because the mini golf is not covered.
Opening hours
From the beginning of May to the end of September you can play mini golf during the following opening hours:
The mini golf course is closed:
on public holidays
in bad weather conditions (in case of doubt you can contact the City Park Sports Hall)
from October 1st through May 1st
Prices
per ticket ten-pass card
From Turnhout - 18 € 1.50 € 10
From Turnhout +18 € 2.50 € 20
Not from Turnhout - 18 € 2.00 € 15
Not from Turnhout +18 € 3.00 € 25
UiTpass Kempen price for the disadvantaged € 0.40 € 0.60
Practical information
You can book online via a form.
More information via +32 (0)14 41 20 66 or sporthal@turnhout.be.